A look one of the areas in Belval where the opening of Cultural Capital of 2022 will take place.
Up until the end of last year, I've been planning and art directing the coming ECSH 2022 event. In coorporation with H-Pro in Copenhagen and Berlin based Battle Royal, we have been preparing the opening event for the European Cultural city of 2022. This will take place in Esch-sur-Alzette, Luxenbourg and is set in the amazing former steelwork area of Belval.
I can't wait to share the work we've done to make the opening spectacular. Opening day, Febuary 26 th 2022.
UX 2021
Yet another year, the UX Copenhagen conference was transformed from at large sale conferance to a studio broadcast due to Covid 19 restrictions, Nevertheless with impact and strong participation. The set design was downscaled and the message of COMMONING was still broadly communicated.
Ux Copenhagen 2020 teaser
Set-design for the 6th international UX COPENHAGEN 2020 conference
UX Copenhagen 2020
Due to the COVID-19 out break, the 6th international UX Copenhagen conference, with speakers and participants from 49 different counties, was transformed to a studio streaming session. In just 10 days a large scale set-design and a huge logitics task including all actors, aired as scheduled on March 30 th. – 31 th.
Speakers words, what is "influence" and "designing for good" about?
Projects for Kiwi Birds
It has been a privillege to work with  the talented people at the event agency Kiwi Birds through August and September. During this time we have developed and executed events for three high end brands. Hopefully soon I'll be able share pictures from these events. This picture above originates from one of the amazing locations we were executing at, it's called Docken and is situated in the Freeport of Copenhagen.
UX Copenhagen 2019
Creating UX COPENHAGEN 2019
This year Hellemartens.com could celebrate her 5th anniversary in hosting the international UX Copenhagen Conference. A festive touch was therefore called for, adding a golden dimension to the original set-design which carried the theme of PRIVACY and CONSENT.
I worked with the simple idea of an boble and how both the designer and the user unwillingly can relate delutedly to the web, as if in a boble. Designer AnneLi Idnert created an amazing line of illustrations for the conference's printed and web identity. In addition, I created the Boble Head People, figures placed around the conference hall as interactive installation. The figures were also incorporated in an amazing Shadow choreography, which kickstarted Day 2.
To round it all off, a Photo booth was set up to make the participants play with disquises while making a photo statement. It was all about PRIVACY and CONTENT.
The conference was a smashing hit, with an strong range of international speakers as well as participants. It was great privillege to be able to work on Helle Martens conferance once again.
Thank you to Across Europe IVS for helping me create the wonderful Boble Head People.
Hjertegalla 2018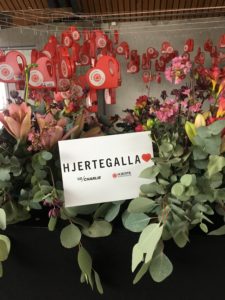 The Danish Heart Foundation, Hjerteforeningen, staged a large scale national fundraising day on April 22nd. During the day, volunteers hit the streets and as came evening the actual show took place. I was fortunate create the set-design matching up to the production design by Pernille Schellerup. The iconic Heart Cone Chairs designed in 1957 by Panton was shipped in from Schweiz in order to play the centerpiece in the overall design. The flower decorations was carefully chosen to resembel all shades of red aswell as the shape of an actual heart. All elements, from furniture to the collection pods, represented authentity and high quality. This responded to the level of effort the Danish Heart Foundation add to their every day work for this cause. Production Company: Warner Bros International Television Production, Denmark.
Hjerte Galla 2018
UX Copenhagen 2018, conference
UX Copenhagen 18, conference, on site
Set design for Klarlund
Klarlund on-site / www.klarlund.dk
Christmas Party in the theme of Dirty Dancing
Christmas Party / Dirty Dancing / on location
UX Copenhagen 17, conference
UX Copenhagen 17, conference, on set
Karim Design, trade fair and window displays